Welcome to Catalina Pet Hospital
At Catalina Pet Hospital, we believe communication is paramount to ensure education on all the preventive care options available. You will have one-on-one time with a veterinarian during every exam to walk you through all treatment options and help you make the right decision for your best friend. After illness or a surgical procedure, our diligent follow-up ensures your pet's response to treatments is thoroughly monitored and that they receive optimal care throughout the process. In addition, the veterinarians are available to answer questions for all of their patients to help alleviate any concerns.
Early detection and education about various diseases, as well as preventative care, assist in providing a foundation to help your pet live a long and happy life. Our veterinarians have selected industry recommended vaccinations, flea, tick, and heartworm prevention to provide only the highest quality products for your best friend.
Please call us today to check on your pet's vaccination status for leptospirosis. Newly diagnosed cases and outbreak in the Phoenix metro area may leave you and your pet at risk! 
Progress on Our New Building
Northeast Corner of Ft. Lowell & Alvernon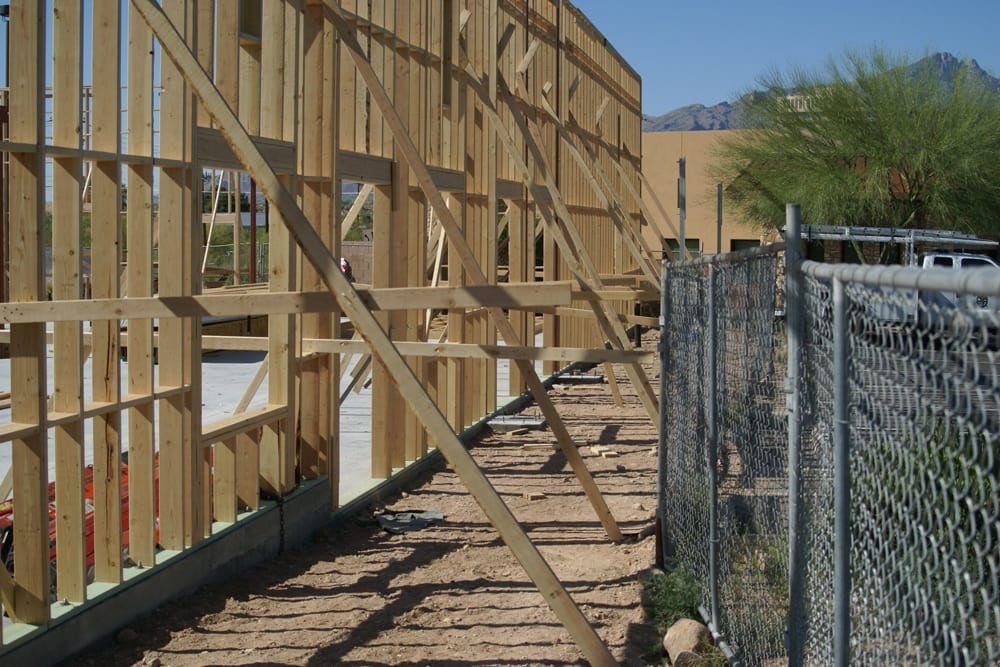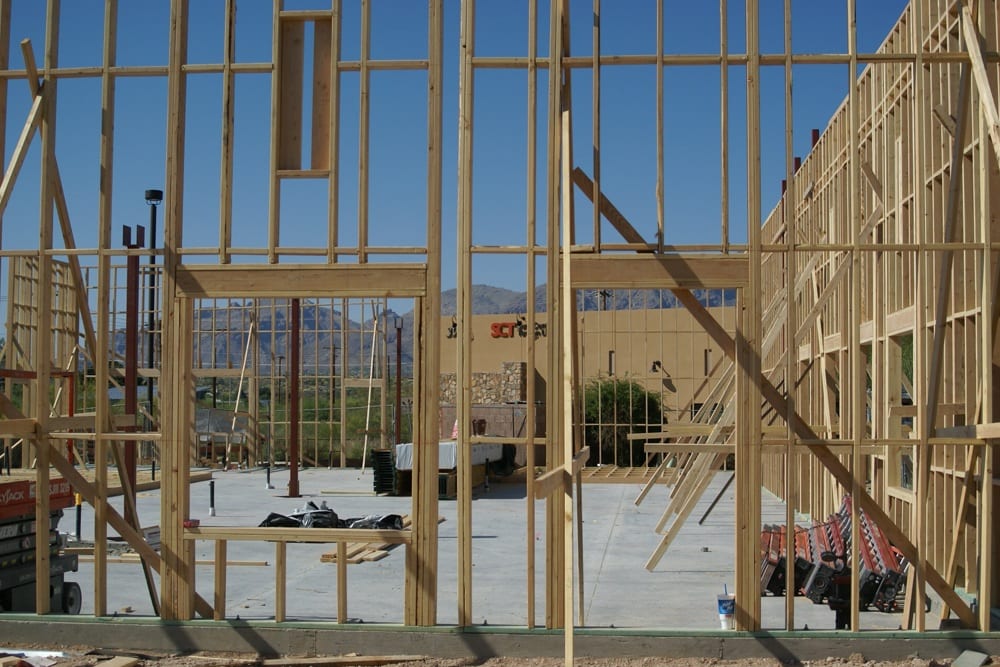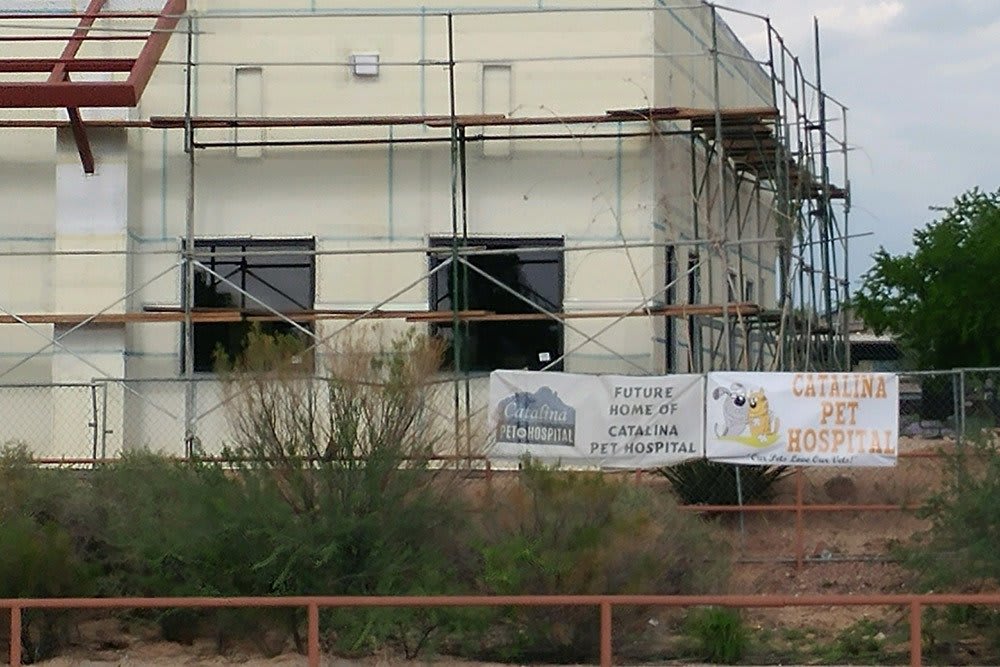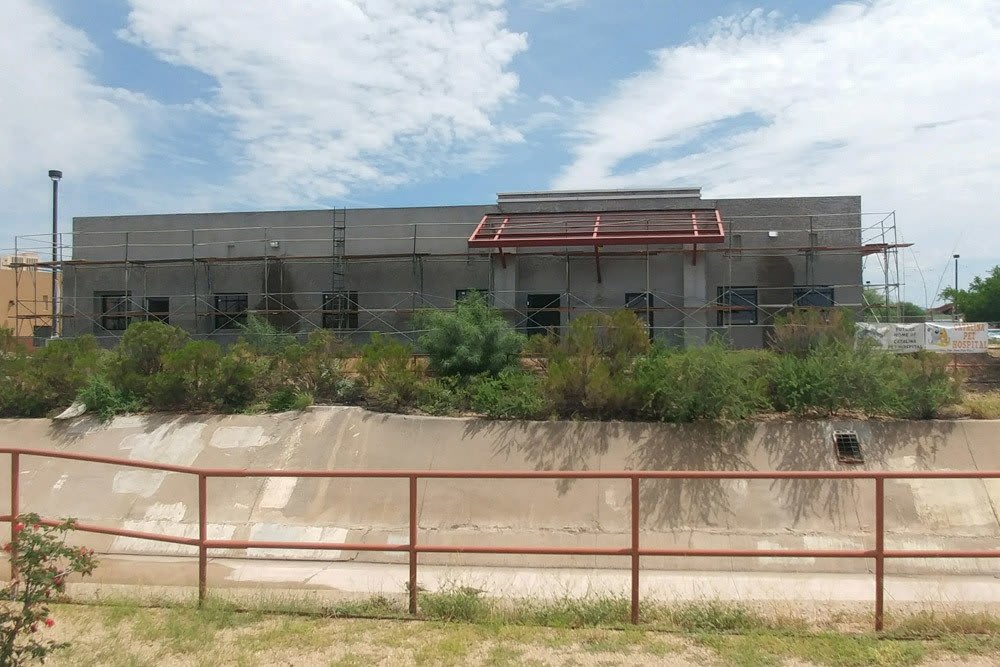 Office Hours
M-F 9:00a-6:00p
Saturday 8:00a-1:00p
Closed Sunday
Walk-In Hours
M-F 9:00a-10:30a and 2:00p-6:00p
Saturday 9:00a-12:00p
Walk-In Services:
Nail Trims
Bordetella Vaccine
Rattlesnake Vaccine
Suture Removal
Heartworm Test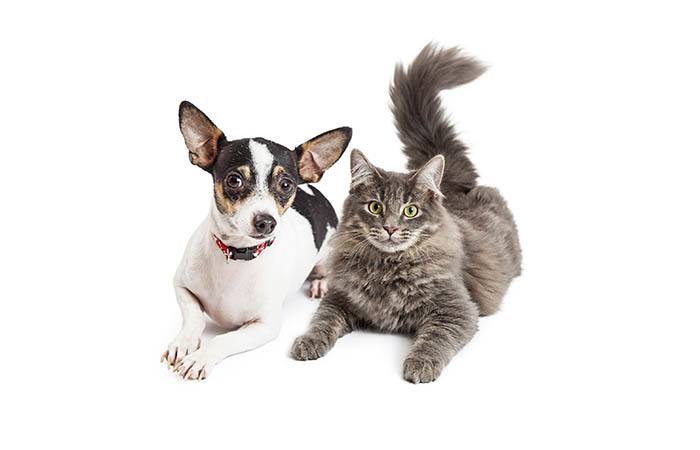 Our Services
We stay on the forefront of veterinary medicine by providing regular continuing education for our veterinarians and our staff. Veterinarian Dr. Amanda Maus currently writes a veterinary internet blog for PAWSitively CATS that provides further education around a variety of health topics.
Recognizing the importance of keeping your pet close to you and your family, we offer same day pick-up and drop-off appointments. We are open every Saturday and until 6pm during the week. We are dedicated to your pet's health and treat them as if they were our very own.
We accept Visa, MasterCard, Discover, American Express, cash, personal checks and CareCredit.
Stay Connected with Catalina Pet Hospital
We understand the special role your pet plays in your family and are dedicated to becoming your partner in your pet's health care. We treat your pet as we would our own. Our goal is to practice the highest quality medicine and surgery with compassion and an emphasis on client education. Our entire healthcare team is committed to providing personal attention to the unique concerns of each individual pet owner.
We welcome you into our family, feel free to look around and learn more about our hospital, our doctors, our services and our team.
Documents, and Forms